Keel and Co Distilling Inc. is a micro distillery located in Headland Alabama.  We make Bourbon Whiskey, Moonshine, Rums, Vodka, and Gin.  We have a tasting room so you can come in a taste the products before you purchase a bottle.  On Friday and Saturday we have live entertainment and a food truck.  Come on by, taste our products and enjoy our live band.    Keel and Co. Distilling is one of the most popular places to visit in South East Alabama.  
119 West Church Street Headland Alabama
Rye, Bourbon, Rum, and Moonshine Products
Tasting Room Hours
Wed 1:00 – 7:00
Thursday Fri & Sat  12:00  – 11:00
334-798-4907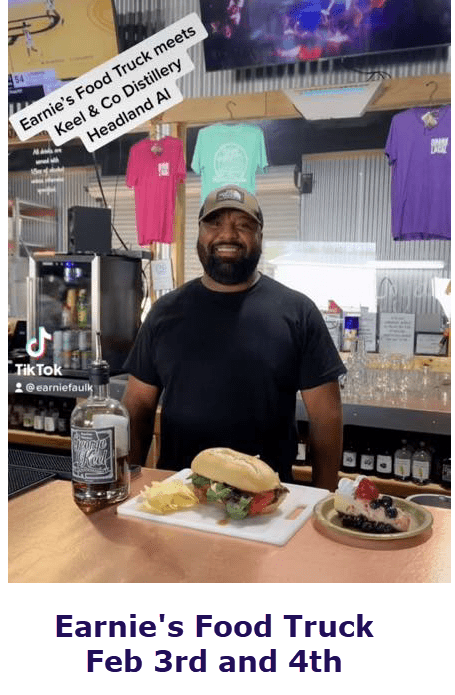 February Lineup for Entertainment at Keel and Co. Distilling
Friday February  3rd          The Playlist
Saturday February 4th      Four on the Floor
Friday February 10th         CrossRoads Band
Saturday February 11th       Mistery Supprise Band
Friday February 17th     The LA Playboys
Saturday February 18     Mama Try'd
Friday Feb 24th     Steven Ritter & the Whatnots
Saturday Feb 25th     Darrell Qualls and the Outlaws.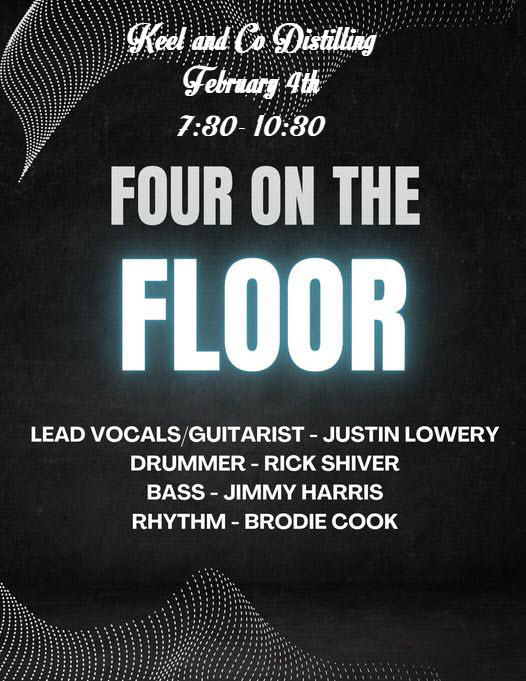 Friday February 3,  we will have the "The PA System" and Saturday February 4th  we will have "Justin Lowery and Four on the Floor Band" .  Bands will start at 7:30 and play to 10:30.  Come early to get a great table or call Kay at 334-798-4907 to reserve a spot.
Several more of the ABC Select Spirits stores in Dothan, Ozark, Enterprise, Eufaula and Montgomery have started stocking some of our products.   Bootlegger Spirits in Abbeville and Headland cary almost everything we sell.  If you don't find our product in your Favorite Spirits store, ask them to stock it or ask them to call us at 334-798-4907 and we will reach out to them.
You can also purchase our products at these locations:
The ABC Select Spirits Store near Walmart on 231 North in Dothan and the ABC Select Spirits Store on 431 North in Headland Alabama are carrying a large selection of our products.  The ABC on Ross Clark Circle in Dothan will be setting up a large display by early February.  If you can't make it by the distillery, stop by one of these locations and pick up a product or two.  If your favorite ABC store is not carrying the Keel and Co. product you are looking for, ask them to stock it.